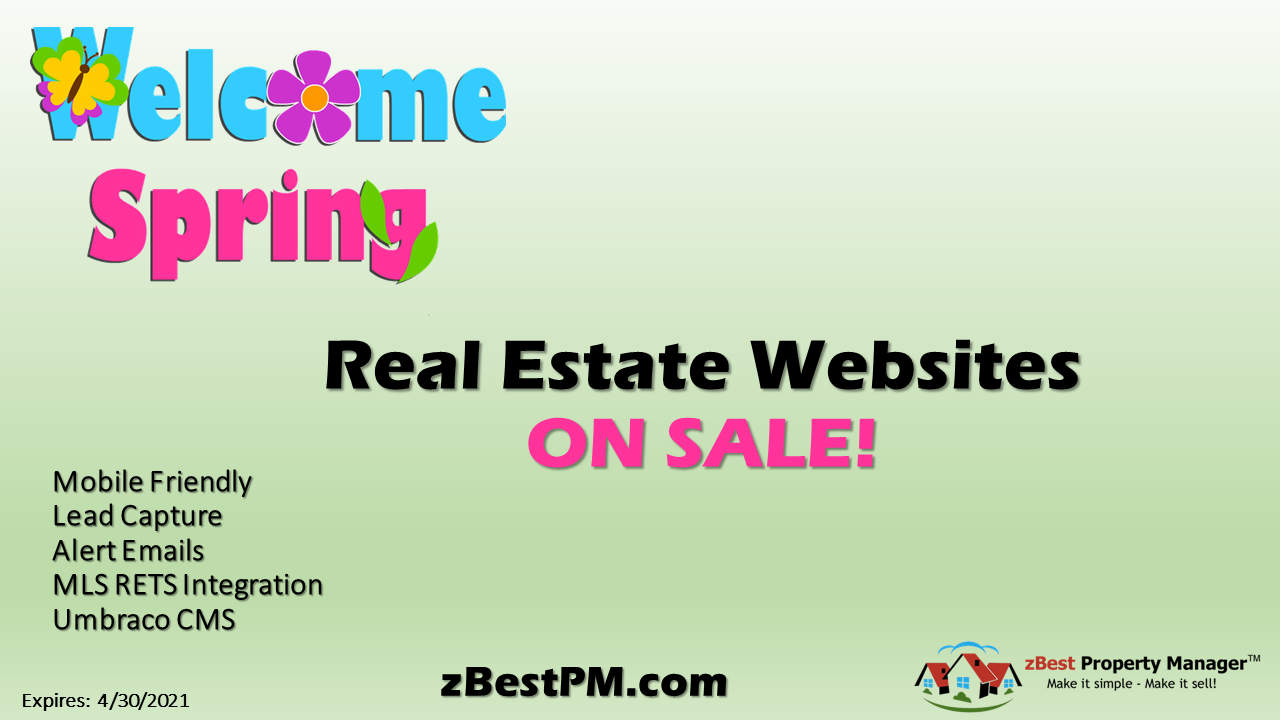 Offer Expires: 4/30/2021
Spring Sale!
Get a fully functioning site with all available features and hosting til July 2021!
Choose a customizable layout
Choose the pages and functions you would like added or removed
**custom additions extra**
Choose the theme colors for your layout
Includes Free hosting and data from 1 MLS till July 1, 2021
**Capable of listings from multiple MLS's**)
zBest will assist with RETS/MATRIX Setup and Approval with your MLS
zBest will setup and include all listed in the What's Included Section
Sample Layouts
Click to view
zBest Property Manager™
A Free Open Source Platform for Real Estate and Property Management
zBest has been serving the Real Estate and Property Management Industries since 2005, and is committed to providing zBest Technologies to help your business succeed. That is why we have made zBest Property Manager™ a free open source platform to fit your personal style and how you do business.
Free Layouts
Click to view

Responsive Design

Mobile Friendly

Social Sharing

Google Analytics

Fast Cloud Hosting

Seamless RETS/IDXIntegration

Intuitive Listing SEO

High Speed Database

Advanced Mapping
What's Included
zBest Property Manager™ Platform and includes, but is not limited to the ability for. . .
Website Pages . . .

Home Page
Up to 20 pages
Searchable Maps
Buy, Sell, Rent, and Sold
Neighborhoods and Subdivisions
About you or your company
Your featured Properties from MLS Data
Our Agents
Independent Agent Pages(Bio, Contact Info, Assigned Properties)
Contact Us
Property Details
Seach Engine Friendly Landing Pages with Map
Sitemap xml and rss files
Sitemap Directory Page
Ability to include listings not in your MLS

Lead Capture(optional)

Customer Registration
Ability to choose favorites
Ability to create their own searches
Back Office to manage your leads
email updates sent to customer based on the info provided above

Standard Features

Mobile friendly responsive design
Umbraco Content Management System(CMS)
Social media integration
Integrated SEO
Intuitive mapping for all searches
Design focus on local real estate
Auto generation of Sitemap.xml's
Ability to syndicate to newpapers, magazines and other vertical marketing sitesthat are not covered by your MLS(optional)
Google Tag Manager Ready

Data Hosting(required)

Photos optimized and served from high speed Azure content delivery network
Hourly updates from your MLS
Hi speed cloud hosting in MS Azure
Listing data stored in enterprise class SQL Server database
Hi Speed Enterprise Database in Azure
RETS, Matrix or IDX Listings from your MLS

Web Hosting(optional) -

Host your site with zBest and get . . .

Not Included

Domain Name - i.e. MyWebsite.com
Terms of Service
Discount pricing applies to Microsoft and zBest Data products only. WordPress® and Linux realated products are not currently supported.
Full payment is due at time of time of service or delivery.
Deposit is required to begin work on projects over $500. Deposti is nonrefundable once work has begun.
A Credit Card is required for all data and hosting services
Additional information: